Diminutiv LTD is based in BULGARIA in the town of Dobrich in 1992.

Diminutiv LTD is inventing and doing the service of a standard and non standard automatic systems driven with Siemens controllers used by different branches of the industry.
Diminutiv LTD is producing machines used by footwear industry. The company is doing the automatization, engineering and consulting in the main divisions of hydraulic, pneumatic and electronics, executing systems of compressed air.
Service electronic control of industrial sewing machines, footwear and textile machinery, specialized industrial electronics.
Diminutiv LTD designes and executes industrial and building electrical installations.
Diminutiv LTD is a distributor of Heron ROBOTUNITS (Austria) and SMC Co (Japan).
After a change of ownership company ALUP-Kompressoren GmbH was transformed into ALMiG Kompressoren GmbH, foundation and official start of ALMiG Kompressoren GmbH on 1st July 2007. The name ALMiG stands for Automatische Luftpumpen - Made in Germany (automatic air pumps - Made in Germany). From 09.10.2020 Diminutiv Ltd. is an official dealer of the German compressor equipment company ALMiG Kompressoren GmbH.
Performs service of screw compressors, piston compressors and air blower Abac, Alup, ALMiG, Airpol, Atmos, Becker, Busch, Demag, Dalgakiran, Ingersoll Rand, Ecoair, Ekomak, FINI, Hankison, Mahle, Mark, Mattei, MTA, Omi, Kaeser, Gardner Denver, Bottarini, HAFI, Fini, Renner, Atlas Copco, BOGE, Ceccato, Compair, Fiac, Worthington, Komsan, WAN, Zander, Remeza, Hertz, Champion and other brand.
Repair of control unit for compressor and inverter:
SMS Belgium: Air Master S1, Air Master P1, Air master Q1, АВАС: MC2, FIAC: Fiac Easy Air Control, Check Control, Air Energy Control, Control Unit LOGIC: LOGIK 6-S, LOGIK 8, LOGIK 16-S, LOGIK 18, LOGIK 25-S, LOGIK 33-S, LOGIK 103, PA 21MC. Control Unit CECCATO: ES99, ES3000, AIRLOGIC, MULTICONTROL Control Unit ALUP, ALMIG, KRAFTMANN, DALVA: AirControl 1, AirControl 2, AirControl 3, AirControl 4. Control Unit KAESER: SIGMA CONTROL, Sigma Control Basic, Sigma Control 2, Sigma Air Manager Control Unit Ingersoll rand: X4I, X8I, X12I and more other brand.
Service of specialized industrial electronics. (Inverters, specialized controllers, thermo regulator, etc.)
Our company services frequency controllers Baumuller, B&R, Danfoss, Yaskawa, Siemens, ABB, Schneider, Emotron inverters, soft starters and many others. Supply of IGBT modules and specialized electronic elements for all brands of inverters.
We show you: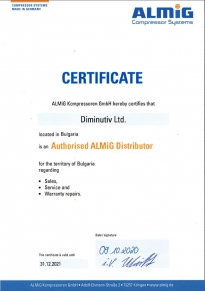 Official dealer of compressor equipment ALMiG
From 09.10.2020 Diminutiv Ltd. is an official dealer of the German compressor equipment company ALMiG Kompressoren GmbH. Our company makes a sale, warranty and out-of-warranty service of ALMiG compressors.