Diminutiv LTD is based in BULGARIA in the town of Dobrich in 1992.

Diminutiv LTD is inventing and doing the service of a standard and non standard automatic systems driven with Siemens controllers used by different branches of the industry.
Diminutiv LTD is producing machines used by footwear industry. The company is doing the automatization, engineering and consulting in the main divisions of hydraulic, pneumatic and electronics, executing systems of compressed air.
Service electronic control of industrial sewing machines, footwear and textile machinery, specialized industrial electronics.
Diminutiv LTD designes and executes industrial and building electrical installations.
Diminutiv LTD is a distributor of Heron ROBOTUNITS (Austria) and SMC Co (Japan).
Sale and service of screw compressors Almig and Atlas Copco.

Performs service of screw compressors, piston compressors and air blower Abac, Alup, Almig, Airpol, Atmos, Becker, Busch, Demag, Dalgakiran, Ingersoll Rand, Ecoair, Ekomak, FINI, Hankison, Mahle, Mark, Mattei, MTA, Omi, Kaeser, Gardner Denver, Bottarini, HAFI, Fini, Renner, Atlas Copco, BOGE, Ceccato, Compair, Fiac, Worthington, Komsan, WAN, Zander, Remeza, Hertz, Champion and other brand.

We show you: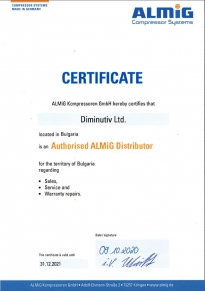 Official dealer of compressor equipment Almig
From 09.10.2020 Diminutiv Ltd. is an official dealer of the German compressor equipment company Almig Kompressoren GmbH. Our company makes a sale, warranty and out-of-warranty service of Almig compressors.